elBulli.info
All about the most famous restaurant in the world
elBulli Review
What can one expect from El Bulli, a restaurant on the coast of North of Spain, notoriously acclaimed as the best in the world?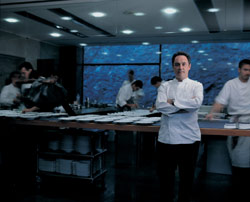 We made our reservations months in advance, as soon as reservations were accepted, hoping to get any date available in year 2005. We were lucky to get a table, as yearly up to one million people try to book a table – only 8.000 succeed – less then one percent. On the plane, we briefed ourselves with concepts and methods of chef Adrià's work as we have appreciated this to be a once in a life time experience, one of the things you read in magazines as "Things To Do Before You Die". Buried under stacks of printed-out articles we read about local Spanish cooking mirroring in Adrià's kitchen, him and his team searching for new break-throughs in cooking and presenting techniques, challenging taste concepts – maintaining his reputation as the best chef in the world.
Ferran Adrià arrived at El Bulli in 1983. At first he was imitating the French cuisine but had dramatically changed his approach after visiting a symposium in Nice in 1987. There, a young chef asked the famous Jacques Maximin, a leader of Nouvelle cuisine, "What is creativity in cooking?" The reply was that "Creativity means never imitating". This became a professional credo for Adrià who has a taken it as a rule in his laboratory.
"My approach is to investigate... This takes a team, equipment, money, time. We have one rule here: it has to be new. It may be good, but if we have done it before, it doesn't matter", Adriá told Wine Spectator last year. That is why he keeps the restaurant closed for half a year in the winter months as the creative team, comprised of himself, his brother Alberto and Oriol Castro, the principal chef at El Bulli, move to their laboratory of tastes, El Taller (the workshop) in Barcelona striving to create new combinations, preparing about 500 new dishes for the season to come.
We read about Adrià love to provoke, the integration of humor and irony into his dishes. As it mentally prepared us to walk into El Bulli it diminished the element of surprise, the element that Adrià was trying so hard to create throughout the dinner.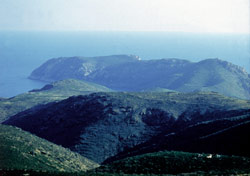 Our short vacation revolved around the dinner at El Bulli. Landing in Barcelona, we drove to Roses, a Costa Brava resort about 150 km north towards the French border. Our hotel, Almadraba Park, was positioned on the prettiest lagoon a little bit out of town, with finest sand, strikingly blue waters, bordered by breathtaking rocky drops. As we turned onto the road to Cala Montjoy, where the restaurant lies, it was marked with exclamation marks and warnings of a dangerous route, but that clearly didn't bother our taxi driver. As our cab was climbing higher and higher into the mountains – a remarkable view was unfolding in front of us – that of the sea, the proud and impregnable cliffs with their abrupt drops, lonely lagoons and the undersized vegetation. We were really in the middle of nowhere and that was just adding to the thrill of the experience. It surely wouldn't have been as much fun if the world's best restaurant was just next door or even in a capital city. Cala Monjoy appeared to be a small village and the restaurant looked out to a small sandy beach.
Arriving in time for our reservation we felt nervous as little kids walking in with butterflies in our stomachs. The entrance was full with waiters all dressed in black, who asked if we wanted to visit the kitchen. For me this proposition came completely unexpected, although my husband was aware of this procedure. We walked into a huge room, rather a few joined rooms, covered with shining steel. The night was just starting so most of the kitchen staff, it seemed, were quietly preparing for the night ahead. No buzz yet. Adrià was standing just nearby with a group of other chefs as if silently greeting all of his guests for tonight. He was quite short and strangely pale for a Spaniard but nevertheless easy to recognize.
Inside, the restaurant looked fairly traditional in dissonance with the ground-breaking food they were serving. Once we were seated, and the waiter confirmed that there would be no milk or red meat products for me – allergens that I have notified them of in advance, we were offered a cocktail to start with. It was a Margueritta. Served in a huge ice-cube, the drink was like a slush ice mounted by foam (this year's new concept prevailing throughout the whole meal) sprinkled with salt from the Himalayas. The waitress grated it like it was Parmesan over a pasta dish in an Italian restaurant. As the salt granules landed on the foam, it was disappearing. The magic show had started and the smiles never left our faces.
Our Marguerittas were accompanied by two olives each. One at a time, they were fished out by waiters from a preserve jar to two little spoons – The Spherical Olives. Once in the mouth, the gentle outer layer burst and an olive tasting liquid excited our taste buds. The service was exceptional – waiters brought food and took the empty plates momentarily. Well, they had to be efficient as they still had to serve us another 26 dishes.
The food menu was set, but the restaurant didn't offer a matching wine menu. The choice of wines was left up to the guests who could appeal for help to the four full time working sommeliers. Juli Soler, the manager of El Bulli, admits that they like to be authoritarian at El Bulli, telling the customers what to eat and how to eat it. He says that the guests should at least drink what they like. The wine should not marry the dish but instead should refresh and divert. We took the advice of one of the sommeliers and ordered a bottle of local white wine.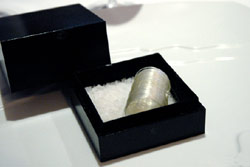 The waiters brought two little black jewelry boxes, opened in front of us. Inside, laid a fine-fibered white spring - olive oil. The instructions were to put it on our fingers and into our mouths as a whole. As it came out, we were to get used to sensing food without cutlery that evening.
Then, at once, came an array of appetizers that pleased the eye by difference in texture and color. There were refreshing slices of melon, peeled almonds, fresh basil and spices – all resting on ice cubes in a bucket; parmesan marshmallows and what looked like the American Orio cookies, but made out of black olives. There were spirals of crunchy and mildly spicy carrot chips and mango discs, so delicate that I have almost overseen them at a glance – two almost transparent golden circles joined together by a black olive paste. The variety and originality of serving trays impressed – apparently each year new types of serving dishes were designed to suit chef's new ideas.
The next appetizer we got was popcorn that came as a huge airy ball – The Popcorn Cloud (Nube de palomitas). We were instructed to eat it in one go and I wondered how? Lifting it with fingers and putting it into the mouth I felt it simply disappearing leaving only the taste of popcorn. No bread was served nor was it going to be served throughout the whole night as if the chef carefully monitored the exact amount of how much we would eat, so there would always be room on our stomachs for his creations.
Two cherries covered with yoghurt powder were served on a glossy dented plate. Then, came the beautiful Golden Egg (Huevo de oro) – a quail egg yolk with a caramelized outer shell sprinkled with sea salt. Once the crunchy outer-shell was broken the mouth filled with the warm liquid. Algae tempura that came next was to be eaten with our hands, dipped into oyster sauce. Then came my least favorite – the truffle jelly covered by what felt like a whisked egg yolk. Lack of substance to chew on and lack of a distinctive taste left me skeptic to this combination. The chefs though quickly recovered my trust with the arrival of the next dish – The Spherical Melon Caviar, served in what looked like an original tin package for Iranian caviar. Refreshing melon drops in passion fruit juice playfully popped in the mouth. Then the waitress brought out two freshly sealed plastic bags filled with a few tiny gherkins, cucumber flowers and peeled almonds in some sort of marinade. Once she cut the plastic bags open we had tweezers to reach for our food and put it in our mouth. The flowers were as tasty as the gherkins.
The next dish was a refreshing peanut ice-cream covered with what looked like snow. It was called The Thaw 2005 (Deshielo 2005). It looked like a colorful variation of spring with a few fragile sprouts standing in a pile of snow, decorated with a yellow flower and some peanuts. This was to refresh our taste buds in time for the array of 8 little main courses starting from seafood and nuts with truffles ending with a scampi lobster and a perfect crunchy chicken wing with oyster sauce.
For a detailed description of each dish, please click here to go to the picture gallery.
One of the dishes for deserts was this year's new-comer – fruits that have been freeze dried by a process of lyophilisation, served with foam. A combination of intensified berry flavor balanced out by the light foam was more successful this time. It also looked strikingly beautiful.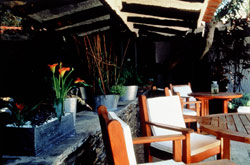 At this point we asked to be seated at the patio, as we have missed out on this opportunity upon arrival – they said it was too windy. Coming from Denmark, where the winds blow right through you all year round, we shouldn't have let it scare us off, but we obeyed the judgement of the waiter and postponed the patio till later. Now it was time. It was great to have some fresh air. The next desert was prepared right in front of us. The waiter had rolled in a table topped by a large frosted metal box named Teppannitro that served as a cooker to make desert for my companion. The waiter squirted out white foam onto the box and let it "fry" a while before flipping it over in order for it to harden on the other side. The name suggested this invention ran on liquid nitrogen. I received yoghurt coated cherry with slightly sweet rose petals.
Wine Spectator recommends white wines at El Bulli because acid is a better structural match with most dishes then tannin or sugar. Dry white wines, especially sparkling wines, are what generally show best at El Bulli. Throughout the dinner we tried two bottles of whites, a local Spanish one and a Chardonnay. Neither of them matched well with the menu feeling too sour for my taste at times. But I do wonder whether it would even be possible to have a matching wine menu, as the tastes vary so drastically from dish to dish. Throughout the dinner we first got a sweet caramelized egg, then a screamingly salty pistachio ice-cream with a runny truffle filling; one moment we were offered a refreshing nutty ice-cream, the next – mussels with a prevailing sea flavor. It is as if there was a battle of tastes devised to entertain and surprise.
The cost of the food menu came out to be 155 EUR per person – very cheap considering the restaurant's world-wide fame, the amount of dishes we got (28!), the quality of the ingredients and the amount of staff involved. There were 35 people or more working in the kitchen and another 20 in the restaurant, attentive at every second. That comes down to about one serving person per guest. At the end of the night we have talked to an apprentice in the kitchen, also from Denmark. He said he was working for free and was hoping to stay for another two years, as I believe many do. Some come only for a few months to find inspiration and acquire techniques working for free. Even so, the restaurant just breaks even in expenses. Adrià says he could easily have put up the prices, but he won't. He prefers establishing other ventures that would provide the profit, like opening a hotel and a catering company in Barcelona. "I could charge a thousand euros for the meal and still book every seat. But that is not the character of El Bulli. We began serving fishermen. I want a fisherman to be able to eat her even now", said Adriá.
That is, of course, if he succeeds booking a table there.